For the DROD RPG element, see Light (RPG).
Lights are a stationary room feature meant to brighten the surroundings. Lights were introduced in The City Beneath.
Behavior
Edit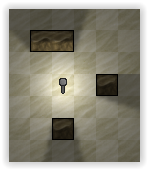 See the interactions page for a list of all interactions for this element.
Lights have an illumination value between 0 and 8. This value is the maximum distance illuminated by the light, and any tiles beyond this limit will be generally left in the dark.
Lights can be placed both on the floor and on top of walls.
Like lights in the real world, lighting effects create shadows in the areas they cannot reach.
Lights block the movement of everything except briar, which will grow through it and destroy it.
Lights can be turned on or off by orbs or pressure plates. This will merely toggle them, not change their lighting value.