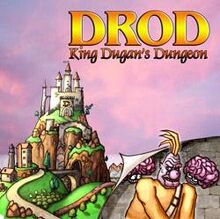 King Dugan's Dungeon is one of Webfoot Technologies' products and its various editions have been Caravel Games' first, second, and third major games in the Deadly Rooms of Death series.
The first version of DROD was created by Erik Hermansen and released by Webfoot Technologies in 1996. The product is no longer distributed by Webfoot.
In 2000, Erik was given permission to release the game as open source. With help of several people, Caravel DROD (or DROD 1.5) was created, and released in October 2002. It had a number of additional features, such as checkpoints and the Restore function.
In October 2003, DROD: Architect's Edition (DROD 1.6) was released. It was functionally identical to Caravel DROD, but also featured a level editor.
In 2005, the product was upgraded once again using the new features released in the game's sequel, Journey to Rooted Hold. Unlike its previous editions, King Dugan's Dungeon 2.0 was released as shareware instead of as a free download.
In August 2014, King Dugan's Dungeon 2.0 received a graphical update and additional content using features from its distant successor, The Second Sky.
The story follows the smitemaster Beethro Budkin as he enters the sprawling King Dugan's Dungeon to exterminate the monsters within.