For the DROD RPG element, see Hot tile (RPG).
Hot tiles are dangerous to stand on. Almost every creature will die if it stands on a hot tile for more than one turn. The only exceptions to this are tarstuff babies, serpents, and flying creatures, which are all completely unharmed by the heat. Hot tiles were introduced in The City Beneath.
Behavior
Edit
See the interactions page for a list of all interactions for this element.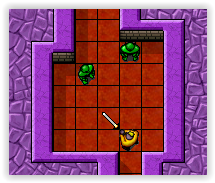 Any creature except tarstuff babies and mothers, wraithwings, gentryii, and fegundos that stands on the same hot tile for more than one consecutive turn dies. Adders and rattlesnakes lose one body segment per turn if their heads or tails, respectively, remain on the same hot tile for more than one turn.
Briar
will treat a hot tile like a
wall
unless there is already a piece of briar there.
Puffs
die immediately on touching a hot tile.
Ad blocker interference detected!
Wikia is a free-to-use site that makes money from advertising. We have a modified experience for viewers using ad blockers

Wikia is not accessible if you've made further modifications. Remove the custom ad blocker rule(s) and the page will load as expected.