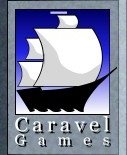 Caravel Games is an indie gaming company that produced DROD. It has made 6 major game titles and multiple expansion packs as of today, all of which belong to the DROD category.
Personnel
Edit
Mike "mrimer" Rimer: Main programmer, team leader.
Matt "Schik" Schikore: Web, game networking.
Maurycy "skell" Zarzycki: Programmer, Flash development.
Erik "ErikH2000" Hermansen: Original game creator, now retired.
Ad blocker interference detected!
Wikia is a free-to-use site that makes money from advertising. We have a modified experience for viewers using ad blockers

Wikia is not accessible if you've made further modifications. Remove the custom ad blocker rule(s) and the page will load as expected.