For the DROD RPG element, see Bomb (RPG).
Bombs are immobile explosive devices. When struck with a weapon or lit by a fuse, a bomb will explode in a seven-tile-wide square around the bomb, killing and destroying almost everything in range. Bombs and fuses were introduced in Journey to Rooted Hold.
Behavior
Edit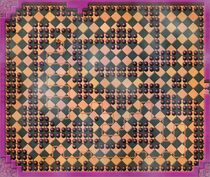 When a lit fuse reaches a bomb or the bomb is hit with a weapon, it explodes in a three-tile radius around the bomb, producing an explosion. Bombs hit by explosions from any source will explode immediately.
Interactions
Edit
See the interactions page for a list of all interactions for this element.
In DROD 5.0 clicking on a bomb will show all the tiles that will be actually hit by the explosion taking into account obstacles and explosions from chain reactions. Prior to DROD 5.0 clicking on a bomb would only show its explosion radius.