This article is about Arky, the replacement for the former First Archivist. For that Archivist, see First Archivist.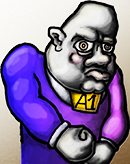 Arky, formally known in the Empire as First Archivist, is a character and an antagonist of The Second Sky. He assumes the same roles as his predecessor, First Archivist, and attempts to accomplish them in his own ways. He's known for his quirky attitude, and outlandish thought process, which frequently bothers Beethro Budkin, and leads the original First Archivist to view him as having doomed all Archivists.
The nickname "Arky" comes from his debut cutscene, where Beethro Budkin declares he'll refer to him as Arky to distinguish him and the original First Archivist.
Ad blocker interference detected!
Wikia is a free-to-use site that makes money from advertising. We have a modified experience for viewers using ad blockers

Wikia is not accessible if you've made further modifications. Remove the custom ad blocker rule(s) and the page will load as expected.